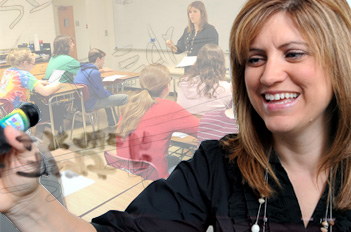 Dr. Tina Cartwright is an assistant professor of education at Marshall University and former West Virginia State Climatologist.
Her life-long interest in science began with a 7th grade project aimed at determining if cloud conditions can predict weather patterns. After teaching meteorology, she began to see that many students are underprepared for Science, Technology, Engineering and Math (STEM) studies.
The goal to reverse that trend brought her to Marshall as program director for the MU-ADVANCE program, a National Science Foundation-funded initiative that seeks to advance women in academic science and engineering careers.
Read more about Dr. Cartwright's research in the Fall 2010 edition of the Neuron.
Photo – Rick Haye, Marshall University