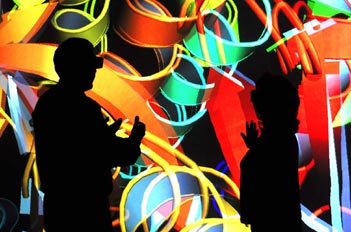 Dr. Tony Szwilski is an engineering professor and director of the Center for Environmental, Geotechnical and Applied Scienceat Marshall University.
He is co-principal investigator on "Cyberinfrastructure for Transformational Scientific Discovery," a $2.6 million project from the National Science Foundation EPSCoR program that, among other statewide investments, helped fund Marshall's visualization lab – a critical component of the university's rapidly-growing cyberinfrastructure. With a 17 x 9-foot Powerwall, the lab has many applications in industry, health care, education and government.
Read more about Dr. Szwilski and the Visualization Lab at Marshall in the Spring 2010 edition of the Neuron.
Photo – WV Department of Commerce