The Chancellor's STEM Speaker Series brings a variety of science, technology, engineering and mathematics (STEM) speakers to West Virginia's capitol city of Charleston several times annually. The goal is to promote the importance of research and while also providing access to renowned scientists who the general public may not otherwise have the opportunity to meet.
For more information on past speakers, please visit our archive.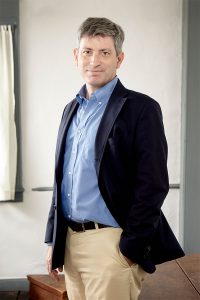 with Carl Zimmer
Tuesday, June 14 at 6 p.m.
Kanawha County Public Library in downtown Charleston
Carl Zimmer is the author of fourteen books about science. His latest book is Life's Edge: The Search for What It Means to Be Alive (hardcover, Kindle, or audio.)
Zimmer's column Matter appears each week in the New York Times. His writing has earned a number of awards, including the Stephen Jay Gould Prize, awarded by the Society for the Study of Evolution. In 2021 he was a member of the team at The New York Times that won the Pulitzer Prize in Public Service for coverage of the Covid-19 pandemic. Three of his books have been named Notable Books of the Year by the New York Times Book Review.
The STEM Speaker Series began in 2014 with a goal of communicating science, technology, engineering and math (STEM) research to all West Virginians.
For more information on Carl Zimmer, please visit prhspeakers.com. This event is supported by the National Science Foundation under Award No. OIA 1458952 and is free to registered guests.