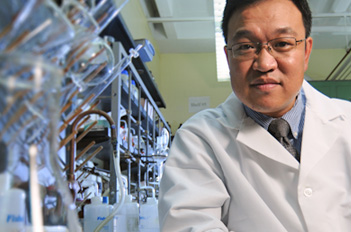 Dr. Xiaodong Michael "Mike" Shi is an assistant professor in the West Virginia University Department of Chemistry and a participant in the WVNano initiative.
In 2009, he was awarded a five-year, $550,000 National Science Foundation CAREER Award – the largest award of its kind at WVU.
As a result of this grant, Shi is conducting research on compounds that will be applicable to biomedical and material investigations that could revolutionize health care, biosensor and energy industries. In addition, he has developed an educational plan that includes travel to China for undergraduate students.
Read more about Dr. Shi's research in the Summer 2010 edition of the Neuron.
Photo – Alex Wilson