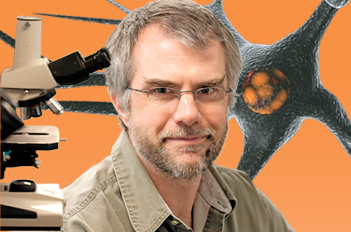 Dr. Brian L. Antonsen studies brains and behavior. He is particularly interested in discovering how social experiences cause long-lasting changes in the properties of circuits in the brain.
As assistant professor of biological sciences at Marshall University, Antonsen is co-director of the Brain Awareness Program and the annual Brain Expo—designed to spark children's interest in science and raise awareness of science as a career option.
Through National Science Foundation-funded research, Antonsen is able to image biochemical properties of neurons in living tissue. "This technology opens up whole new lines of inquiry. Our research will benefit tremendously."
Read more about Dr. Antonsen's research in the Spring 2011 edition of the Neuron.
Photo – Rick Haye, Marshall University