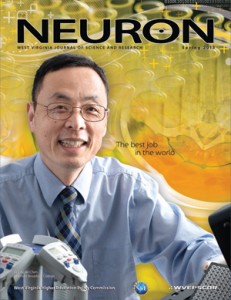 The Spring 2013 issue of the Neuron, West Virginia's quarterly journal of science and research, is now available online and in print.
Articles include a cover feature on Alderson-Broaddus College Professor of Biology Dr. Charlie Chen, a preview of the October STaR Symposium, some great stories about space research in West Virginia, and an essay on action needed for the United States to stay competitive in the world.
Download a a pdf version of the Neuron here.  To receive a printed copy or to begin receiving printed copies of future Neurons by mail, contact Leigh Taylor with your name, mailing address and e-mail address.
To see Neuron back issues, visit the Neuron page of the Library.
# # #
Visit our Press Room  for more news about science and research in West Virginia.