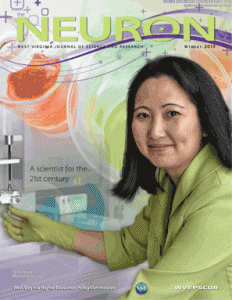 The Winter 2013 issue of the Neuron, West Virginia's quarterly journal of science and research, is now available online and in print.
Articles include a cover feature on Marshall University Assistant Professor of Chemistry Dr. Bin Wang, a report on the success of the West Virginia Research Trust Fund and Research Challenge Fund programs, and a guest commentary West Virginia Governor Earl Ray Tomblin.
Download a a pdf version of the Winter Neuron here. online. To receive a printed copy or to begin receiving printed copies of future Neurons by mail, contact Kelly Merritt with your name, mailing address and e-mail address.
To see Neuron back issues, visit the Neuron page of the Library.
# # #
Visit our Press Room  for more news about science and research in West Virginia.