A faculty member from West Virginia Wesleyan College (WVWC) is featured on the cover of the fall issue of The Neuron magazine. The accompanying article articulates the ways in which Dr. Tracey DeLaney, an assistant professor of physics and engineering, is dedicated to challenging students at WVWC to explore the unknown.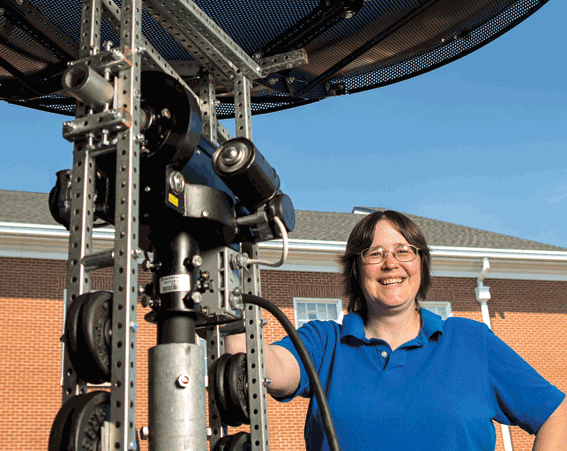 DeLaney is also part of West Virginia's current five-year, $20 million National Science Foundation EPSCoR Research Infrastructure Improvement (RII) grant.  As part of the project, she is involved in the Pulsar Search Collaboratory that trains college and high school students to search through data from the Green Bank Telescope for signals from new pulsars.
The West Virginia Higher Education Policy Commission's Division of Science and Research produces The Neuron, a quarterly publication which features science and research news primarily from the state's colleges and universities.
DeLaney is known for reaching out – not only to the students at WVWC but also to the community through experiences she coordinates like planetarium shows and educational events in local parks.
"Sometimes it's hard for people to understand the types of job opportunities – and really cool science stories – that are out there just waiting for them to discover," she said. "I like to think I have a part in making it all a little more accessible."
Copies of the magazine are available as well as a free subscription for future issues. Contact the Division of Science and Research at 304-558-4128 or info@wvresearch.org for more information. An online version is available at wvresearch.org.
Publication of the Neuron is supported with a grant from the National Science Foundation.
The Division of Science and Research administers these state –level scientific research grants in the state in addition to directing the EPSCoR program in West Virginia. The division provides strategic leadership for infrastructure advancement and development of competitive research opportunities in the Science, Technology, Engineering and Math (STEM) disciplines.