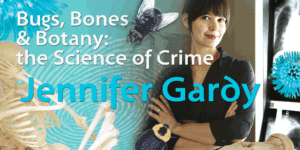 From CSI to Law and Order, popular culture seems to be fascinated with forensics and how crimes are solved. Bringing that topic to town, Jennifer Gardy will be featured in the Chancellor's STEM Speaker Series this September.
The talk, titled Bugs, Bones and Botany: the Science of Crime, will take place at the Culture Center Theater (at the State Capitol Complex) on Thursday, Sept. 8, 2016 at 7 p.m. Tickets to the event are free but must be obtained in advance due to space constraints. Click here to get tickets.
Gardy is a senior scientist at the BC (British Columbia) Centre for Disease Control and an occasional guest host for Nature of Things, a documentary series on the Canadian Broadcasting Corporation. She is also the author of a children's book: It's Catching: The Infectious World of Germs and Microbes.
Dr. Paul Hill, Chancellor of the West Virginia Higher Education Policy Commission, said, "With her immense charm and energy, Jennifer will certainly captivate our audience at this event as she shows that science has an effect on our everyday lives. A spotlight of her talk will be how the natural world surrounding a crime scene can crack a cold case."
The Chancellor's STEM Speaker Series, which most recently featured National Geographic photographer Joel Sartore, is organized by the Higher Education Policy Commission's Division of Science and Research with support from a federal grant from the National Science Foundation. The goal of the series is to promote the importance of research and the science, technology, engineering and math (STEM) fields to the general public in West Virginia.
Dr. Jan Taylor, Director of the Division of Science and Research, said, "We have had a wonderful audience at each of our past events, and we plan to keep the STEM energy alive with Jennifer Gardy."
The Division of Science and Research directs the EPSCoR program in West Virginia, while also managing other state and federally-funded academic research programs across the state. The program provides strategic leadership for infrastructure advancement and development of competitive research opportunities in STEM disciplines.