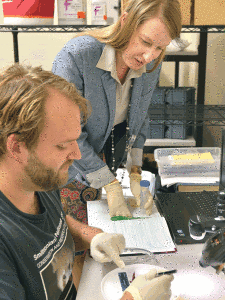 Sher Hendrickson-Lambert has studied condors, taught about conservation in South Africa and helped round up wild horses in Ecuador. It sounds like a pretty diverse life, but the common denominator for the assistant professor of biology at Shepherd University is a passion for genetic research and evolutionary biology.
Read more about Hendrickson-Lambert's research interests in the Summer 2014 edition of the Neuron.
To read about other West Virginia scientists who have been spotlighted in The Neuron, visit the Neuron page of the Library for past issues.
If you'd like to be added to mailing list for the print issue of The Neuron, email Editor Amanda Ramey at amanda.ramey@wvresearch.org.