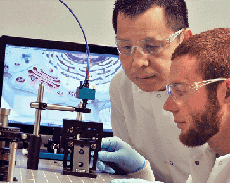 It's a wonderful life according to Dr. Nianqiang "Nick" Wu, associate professor in West Virginia University's Department of Mechanical and Aerospace Engineering. Not only is his research cutting edge and gaining international attention, he is also an inspiration to his students and, perhaps most importantly, he sincerely loves his work.
He said, "People do what they enjoy in life, and I really love research."
Wu, who was born in southern China, said he has always known he wanted to be a scientist. His path to West Virginia started when he did his post-doctoral research at the University of Pittsburgh so he was already familiar with the area when the opportunity to join the ranks at WVU came about.
Read more about Nick Wu's accomplishments and research in nanotechnology at WVU in the Fall 2013 edition of the Neuron.
To read about other West Virginia researchers featured in the Neuron, visit the Neuron page of the Library.