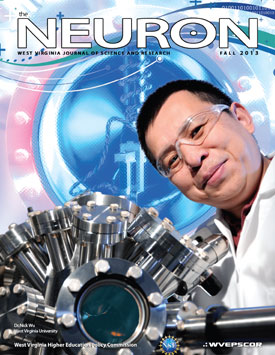 The Fall 2013 issue of the Neuron, West Virginia's quarterly journal of science and research, is now available online and in print.
The cover feature is Dr. Nick Wu, an associate professor in West Virginia University's Department of Mechanical and Aerospace Engineering whose research is cutting edge and gaining international attention.
Download a a pdf version of the Neuron here.  To receive a printed copy or to begin receiving printed copies of future Neurons by mail, contact Amanda Ramey with your name, mailing address and e-mail address.
To see Neuron back issues, visit the Neuron page of the Library.
# # #
Visit our   for more news about science and research in West Virginia.