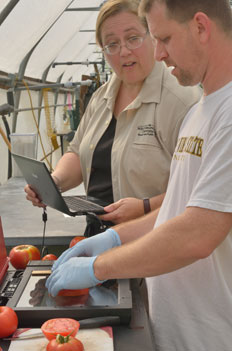 The associate research professor at West Virginia State University is well known around the Gus R. Douglass Institute for the varieties of tomatoes she and her students cultivate. Bell peppers and chili peppers are another frequent harvest, and this year artichokes are among the crops growing in the garden.
She and her students cross certain plants with others and study the DNA, working to find specific genetic traits to develop strains that will resist disease, resist insects or grow better in certain conditions, such as in a greenhouse or high tunnel instead of an outdoor garden.
Read more about Dr. Liedl's program at West Virginia State University in the Summer 2013 edition of the Neuron (pdf).
Photo by John Sibold.
To read about other West Virginia researchers featured in past issues of the Neuron, visit the Neuron page of the Library.