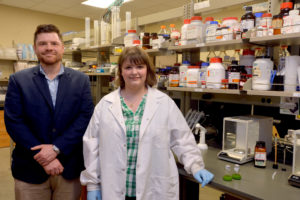 Whether she is winning prestigious awards from the national honor society for women in chemistry or traveling across the U.S. to present her biochemistry research, Amanda Smythers is setting the standard for what it means to be a young scholar.
Smythers, a 27-year-old biochemistry student from Huntington, has received Iota Sigma Pi's Members At Large Re-entry Award, which recognizes excellence in chemistry achieved by a woman at the graduate or undergraduate level.
In addition to receiving the award, she was invited to present her research at the 2017 Posters on the Hill, a competitive event held in Washington, D.C. The program gives students the opportunity to showcase their research to congressional members, meet with their representatives and learn about advocacy for undergraduate research. Out of hundreds of applications to the program, only 60 are chosen to present their research.
"It really is such a great opportunity to have our research shown on a national platform. Since they take so few abstracts, I did not think I stood much of a chance, but here we are. It is so important for our national leaders to understand the importance of our work and recognize the quality of research Marshall University contributes to the field," Smythers said.
As a non-traditional student who returned to Marshall with no intention of establishing a career in research, Smythers said she was initially surprised when she found a real passion in chemistry.
"I am excited to share my experiences and show people how great the chemistry program is here. In addition to the funding I received from NASA, I received two scholarships from our chemistry department as well as the summer research fellowship. They have also funded me to travel to a variety of conferences around the U.S., including conferences in Cincinnati, San Diego, Philadelphia and Chicago," Smythers said.
While in Washington, D.C., for the 2017 Posters on the Hill event, Smythers will present research that focuses on making microalgae a more efficient stock for biofuel production. Smythers and her faculty mentor Dr. Derrick Kolling will have the opportunity to present their research on April 26.
Smythers said working with Kolling, or "Dr. K" as students refer to him, has been the most rewarding part of her experience at Marshall.
"He has given me constant encouragement and self-confidence that has built me into the biochemist I've become. He has always treated me like an equal and takes my ideas and suggestions seriously, allowing me to design experiments and try new approaches," Smythers said. "He has also involved me in grant writing and other projects which I really enjoy. I can definitely say that I would not be entering a master's program now if it had not been for him."