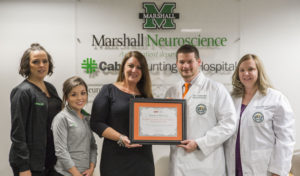 Paul B. Ferguson, M.D., chair of the department of neurology at the Marshall University Joan C. Edwards School of Medicine and a physician specializing in the treatment of multiple sclerosis at Marshall Neurology and Cabell Huntington Hospital, has received a Partners in Multiple Sclerosis (MS) Care designation in neurology by the National Multiple Sclerosis Society.
The designation was made official Friday, Dec. 16, during a presentation at the Marshall University Medical Center.  Marshall is the only facility in the state that has a neurologist with the designation as a Partner in MS Care.
"We are very pleased to receive this national honor which recognizes our multidisciplinary model of care," Ferguson said. "Our comprehensive approach to treating this complex disease is important as we, working with our patients, identify strategies and treatments to ensure the best care possible."
Amanda Pritt, with the Virginia/West Virginia chapter of the National Multiple Sclerosis Society, said the program's goal is to offer people with MS greater opportunities to access quality care and more comprehensive management close to home by recognizing providers committed to their care.
"This designation is significant because it showcases the outstanding program that has been created at Marshall Neurology," Pritt said. "We applaud Dr. Ferguson and his entire team for their work to deliver great care to the region."
Ferguson, a 2007 graduate of the Marshall School of Medicine, completed a residency in neurology at Wake Forest Baptist Medical Center in Winston-Salem, North Carolina, before returning to West Virginia.
Other members of the MS treatment team supporting Ferguson include Jeff Ashton, physical therapist with Cabell Huntington Hospital; Crystal Heise, Pharm.D.; Kelly Johnson, APRN, FNP-BC; and Marshall Health nurses Stephanie Long, April Perdue and Brandy Adkins.