At age 6, Hannah Clipp got separated from her family at the National Zoo.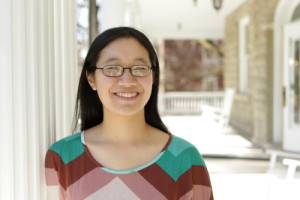 She had stopped to admire ducks swimming in a fountain long enough to briefly lose her parents. And while she may have been lost, she wound up finding a lifelong passion: Wildlife.
Over the past two years, Clipp has conducted golden eagle surveys at 4 a.m., sunk into knee-deep mud to collect insect samples and endured icy winds and freezing sleet to check on black bear dens.
So it should be no surprise that the 20-year-old wildlife and fisheries resources junior with a 4.0 GPA made West Virginia University history this week.
Clipp, of Bel Air, Maryland, was named a Udall Scholar and a Goldwater Scholar – the first time a WVU student won both. She is also the only WVU student to earn either scholarship for 2015.
"This is a truly rare accomplishment and we are so proud of Hannah for all she has accomplished," said Cate Johnson, ASPIRE Office program coordinator.
Clipp is WVU's fourth Udall Scholar and its 40th Goldwater Scholar. She is an Honors College Presidential Scholar at the Honors College and is also majoring in multidisciplinary studies.
Each year, the Morris K. Udall and Stewart L. Udall Foundation selects 50 Udall Scholars from a pool of college sophomores and juniors committed to careers related to the environment or Native American issues.
The Barry M. Goldwater Scholarship is the most prestigious undergraduate award that recognizes excellence in science, technology, engineering and mathematics (STEM) research.
"They're equally awesome," Clipp said about winning both, "and they'll play a role in what I want to do in the future."
Clipp's dream job is to become a wildlife biologist focused on ecological research. More specifically, she wants to study mammals and birds. She has her sights on working with the U.S. Fish and Wildlife Service, U.S. Forest Service or the National Oceanic and Atmospheric Administration, where she'll have a research internship this summer.
Her other career goals include bridging the communication gap between scientists and the public and resolving human-wildlife conflicts.
So far at WVU, Clipp has served as Society for Conservation Biology president, conducted fieldwork with the West Virginia Division of Natural Resources and published a scientific review paper on the environmental and anthropogenic factors influencing salamanders in riparian forests. The paper was published in Forests, a peer-reviewed journal.
As compelling as her academic drive is her upbringing and desire to break the mold. Clipp was born in China. At 7 months old, she was adopted from a rural Chinese orphanage by white parents from the Maryland suburbs.
"My family didn't hunt, fish, hike or camp, yet I have always fostered a passion for wildlife," Clipp said. "I've always been drawn to animals. I watched a lot of Animal Planet when I was young and enjoyed trips to the zoo."
In addition to research, Clipp hopes to one day write novels and create picture books for youth that teach about wildlife and conservation.
"Hannah is not only a skilled scientist, but is an artist and writer," Johnson said. "Her versatile skill-set and strong commitment to the application processes made advising Hannah truly a joy."
Clipp credits her mentors at WVU, particularly Jim Anderson, professor of wildlife and fisheries and director of the Environmental Research Center.
"Hannah is a terrific student and is fast becoming a fantastic wildlife biologist," Anderson said. "I came up with an idea for a publication and with very little guidance from me, she turned the concept into a useful and wonderful publication in a matter of months. She is adept at connecting disparate concepts and integrating them in a cohesive fashion. Her abilities and drive to be successful are unique among her peers.
"Hannah is also fantastic in the field. Her superb avian identification skills are demonstrated weekly as she has been evaluating bird use of created wetlands for the past year. This study has important implications for wetland creation and design."
Honors College Dean Ken Blemings recognized Clipp's dedication and the faculty support she has received.
"She is an extraordinary student and has great faculty support from her mentor, Dr. Jim Anderson," Blemings said. "I am confident that Hannah will continue to make important contributions to our understanding of wildlife biology."
Clipp also received guidance from another wildlife and fisheries professor, Todd Petty.
"Hannah possesses a unique combination of exceptional intelligence and a passion for science and the environment," Petty said. "We are excited for what the future holds for Hannah as she pursues her dream to be a leader in the field of conservation biology."
The Goldwater Scholarship covers the cost of tuition, fees, books and room and board up to a maximum of $7,500 per year. The Udall Scholarship offers up to $5,000, in addition to networking opportunities. Clipp is also a finalist for the Truman Scholarship this year.
"The field of wildlife is not glamorous or lucrative, but I love it," Clipp said, "and I know that I can play a positive role in wildlife research, conservation and education."