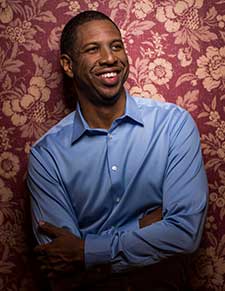 Hakeem Oluseyi has had a long, distinguished career in academia and scientific research. Currently he is stationed at NASA Headquarters in Washington, D.C. via the Intergovernmental Personnel Act (IPA) Mobility Program. The IPA program provides for the temporary assignment of experts between the federal government and eligible organizations like Florida Tech. As an Astrophysicist and Space Science Education Lead for NASA's Science Mission Directorate (SMD), he is responsible for co-managing 27 SMD Science Activation cooperative agreements totaling more than $40 million. He also provides strategic and scientific advising for SMD investments in STEM Education, Citizen Science, Diversity, Equity & Inclusion, and Strategic Communications.
Hakeem's scientific research is based on "hacking stars" to develop innovative new technologies and better understand our universe. Leveraging techniques for interpreting electromagnetic radiation, laboratory plasma physics, computational modeling, machine learning, time-domain informatics, big data analytics, and high performance computing, his work has resulted in 11 patents, and 80 publications covering contributions to astrophysics, cosmology, semiconductor manufacturing, and ion propulsion. His science education research has resulted in highly effective and efficient, divergent techniques for teaching mathematics and physics to learners of all ages.
Hakeem is one of the world's most popular educators and science communicators. He co-hosts several shows on Science Channel and Discovery International including Outrageous Acts of Science, How the Universe Works, Space's Deepest Secrets, Strange Evidence, You Have Been Warned, and Strip the Cosmos. He regularly appears on news programs and has won or been nominated for several awards for science reporting including one Emmy nomination and four Webby Awards. Hakeem has a memoir titled "The Stars in My Soul: My Unlikely Journey through Space and Time" set for release in 2020.