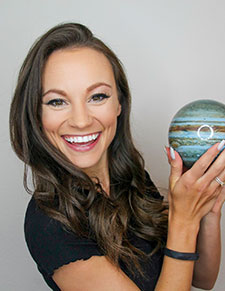 Chancellor's STEM Speaker Series with Emily Calandrelli
Originally occurred on March 14, 2019 at the Culture Center Theater in Charleston
Emily Calandrelli is the executive producer and Emmy-nominated host of FOX's Xploration Outer Space, a chief correspondent on Netflix's Bill Nye Saves The World and writer and host of YouTube's Spotlight Space, a series from Lockheed Martin detailing their latest space projects in development. Calandrelli's passion for space drives her to prove the industry is more thrilling than ever before.  
"I'm excited to return to my home state and share my love for science and space exploration – because, of course, this is where that passion started for me," Calandrelli said. 
Calandrelli received a bachelor's of science degree in mechanical and aerospace engineering from West Virginia University and two masters of science degrees from Massachusetts Institute of Technology (MIT), one in aeronautics and astronautics and the other in technology and policy.  
In 2017, Calandrelli began publishing Ada Lace Adventures, a children's book series featuring a 3rd grade girl who loves science and works with her new best friend to tackle life's challenges. The books will be available for purchase by Taylor Books in the Culture Center lobby immediately following this event. 
The Chancellor's STEM Speaker Series began in 2014 with a goal of communicating science, technology, engineering and math (STEM) research to all West Virginians. This event is supported by a grant from the National Science Foundation and is free to registered guests.