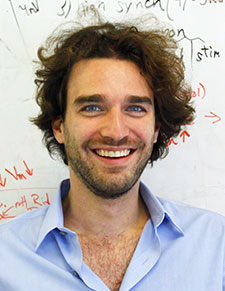 Chancellor's STEM Speaker Series with Carl Schoonover
Originally occurred on June 29, 2017 at the Capitol Center Theater in Charleston 
Carl Schoonover became a neuroscientist because, simply put, he is fascinated by how the brain works. And he wants to share that enthusiasm (and his findings) with as large of an audience as possible. A TED Fellow mapping the line between art and science, he's also the co-founder of NeuWrite, a collaboration between writers and neuroscientists.
Carl Schoonover is a postdoctoral fellow in the Department of Neuroscience at Columbia University, where he investigates the neural mechanisms that underlie olfactory learning. He is the author of Portraits of the Mind: Visualizing the Brain from Antiquity to the 21st Century and has written for The New York Times, Le Figaro, and Scientific American. He is the co-founder of NeuWrite, a collaborative working group for scientists, writers, and those in between.
After studying analytic philosophy at Harvard College, Schoonover transitioned to neuroscience for this doctoral work at Columbia where he studied the sense of touch with the goal of elucidating basic principles of neural circuit function in the mammalian cortex. He lives in New York city and hosts a radio show on WKCR, which focuses on opera, classical music, and occasionally their relationship to the brain.