Dr. Monika Sawhney of the Marshall University College of Health Professions has received a grant through the Higher Education Policy Commission of West Virginia to conduct breast cancer research in rural communities across the state.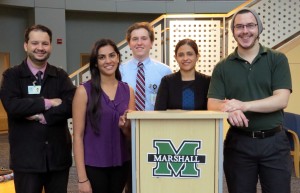 Sawhney, director of Marshall's undergraduate public health program, said this research will provide an opportunity for student-focused research training in regard to breast cancer screenings. The students chosen to work on this project include undergraduate public health students Minal Patel and Cory Lambert; School of Medicine resident Mohamed Alsharedi; and medical students Andrew Myers and Chad Crigger.
"These students will collaborate and practice the skills they've been learning in the classroom and apply them within a practical setting," Sawhney said. "As director of the public health undergraduate program, I think it is essential for our students to gain exposure to public health research of this nature and enrich their educational experience."
Crigger, a second-year medical student from Charleston, W.Va., said he was interested in becoming involved in this research study due to personal reasons.
"I have a history of breast cancer in my family so there's a strong personal interest for me," Crigger said. "I also wanted to do something outside of a lab and get more involved in improving the health in our rural communities."
Patel, 22, of Huntington, is a senior public health and biology student. She said growing up in West Virginia allows her to view this research study with an open mind.
"Many people associate stigmas with our state especially within our rural areas," Patel said. "Because many of us grew up in West Virginia, we will be able to relate to our rural community members and in turn, hopefully we can produce better data and results because of that level of understanding."
Lambert, 20, of Cross Lanes, W.Va., is a junior public health student in the college. Lambert said he believes Sawhney will continue to expand and advance the initiatives of the public health department at Marshall.
"Research at Marshall is going to a different level – it's expanding and becoming more multi-disciplinary," Lambert said. "This is such a young program and being able to partner with our medical school says a lot about our program director and how she really cares about her students and their opportunities to gain real-world experience here at Marshall."
Sawhney submitted her application for the grant in December 2013 and received notification of   acceptance in February 2014. The one-year granted is titled, "Improving recruitment of health workers in rural areas through student-focused research training: The case of breast cancer screening in rural West Virginia." To learn more about the student-focused research training in regard to breast cancer screenings, contact Sawhney at sawhney@marshall.edu. To learn more about the public health program at Marshall, visit www.marshall.edu/cohp online.