The speed limit on the information superhighway at West Virginia State University has just been increased.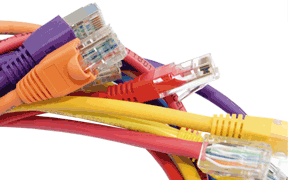 Thanks to funding from the National Science Foundation's EPSCOR program channeled through the Higher Education Policy Commission's Division of Science and Research, the WVSU campus is now home to a high-performance computing (HPC) system with enough processing speed to equal 120 standard desktop computers. The HPC system, at the newly established Computational Science Center, will officially launch with a ribbon-cutting ceremony in the Drain-Jordan Library at 10 a.m. on Wednesday, March 14, 2012.
"This system will increase the speed performance at which our research faculty, students and staff can process data," says Dr. Jose Ulises Toledo, Associate Dean of WVSU's Gus R. Douglass Land-Grant Institute. "What could take two or three days to process with standard processors, this system can handle in a matter of minutes."
Nicknamed after the WVSU mascot, Stinger will allow students, faculty and researchers to compete more favorably with other institutions in their chosen fields and, administrators hope, attract additional faculty and students into the academic areas of science, technology, engineering and mathematics, or STEM.
"Stinger takes researchers at West Virginia State a giant step forward," says Toledo. "With this system in place, our research faculty and students will greatly enhance their research capabilities."
The University's Internet bandwidth has been increased to meet the demand resulting from the new system. The HPC is located in the University's Drain-Jordan Library and features a visualization tile display (viz-wall) of four 52" high-resolution monitors, as well as classroom seating and conference space.
The ribbon-cutting ceremony is a precursor to the Higher Education Policy Commission Division of Science & Research's upcoming STaR & West Virginia Academy of Science Symposium to be held on the WVSU campus April 20-21. The fourth biennial symposium will feature successful WV researchers who have transformed ideas from the brain to the lab to production to market. Stinger will also be a feature of WVSU's own research symposium to be held in August.
For more information about Stinger and its applications, contact Dr. Jose Ulises Toledo at (304) 204-4304 or Bob Huston, Director of Information Technology Services, at (304) 766-3261.