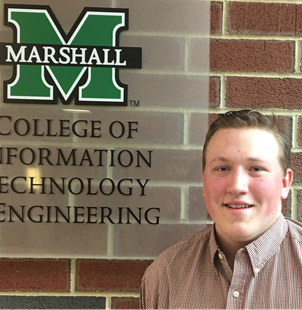 Zach Preston, a mechanical engineering student in Marshall University's College of Information Technology and Engineering, is one of the first-ever recipients of the Lockheed Martin STEM Scholarship.
Chosen as one of 200 scholarship recipients from among 6,333 applicants from 89 colleges, Preston will receive up to $40,000 total in scholarship funding, or $10,000 per school year, for up to three additional years or until his bachelor's degree is earned. As a scholarship recipient, he will also be eligible for a paid Lockheed Martin internship opportunity.
Preston is the only West Virginia student to receive this scholarship.  He is a Wayne High School graduate and was part of the pre-engineering program there, which was titled "Project Lead the Way." A former student at Bridge Valley Technical College, Preston completed the associate degree in Advanced Manufacturing Technology (AMT). He also did 21 months in an industrial maintenance internship. Preston works full-time as a maintenance technician for Toyota Motor Manufacturing while pursuing his degree at Marshall's Weisberg Division of Engineering, which is part of the College of Information Technology and Engineering.
The College of Information Technology and Engineering prepares students for real-world challenges by providing a combination of basic and advanced scientific and engineering knowledge, complemented by frequent hands on exercises and ample exposure to the needs of our industrial partners, said its dean, Dr. Wael Zatar.
"I am extremely proud of Zach Preston – his progression towards meeting his career goals has been amazing," Zatar said. "He raised the bar for Marshall's engineering students – he has successfully demonstrated his persistence and desire to overachieve.
"The college will continue to provide an excellent education to support building better futures for all of its students, and I am confident that other students in the college will receive many prestigious STEM scholarships, including the Lockheed Martin STEM Scholarship, in the future."
Originally from Jean Hardiman for Marshall University Communications.