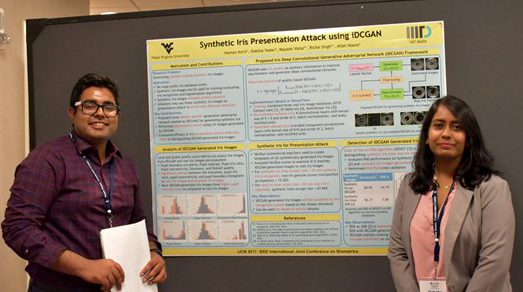 Doctoral students from West Virginia University's Statler College of Engineering and Mineral Resources captured best poster awards at the International Joint Conference on Biometrics held October 1-4, in Denver, Colorado.
Naman Kohli and Daksha Yadav, doctoral students in computer science, received a best poster award for their paper titled, "Synthetic Iris Presentation Attack Using iDCGAN." Commercial iris recognition systems find it difficult to discriminate between synthetically generated iris images and real iris images. Kohli and Yadav's research proposes a solution to this challenging problem by developing a novel algorithm to generate realistic looking synthetic iris images using a new framework called iris deep convolutional generative adversarial network.
Shruti Nagpal and Maneet Singh, WVU visiting research scholars from the Indraprastha Institute of Information Technology at Delhi, also received a best poster award. Their paper, "Gender and Ethnicity Classification of Iris Images Using Deep Class Encoder," focuses on using a novel supervised deep class-encoder algorithm to predict gender and ethnicity by analyzing iris images. The use of gender and ethnicity as a soft biometric trait improves the iris recognition performance, reduces the computational time and results in faster processing.
The award-winning biometric research was conducted at the Intelligent Forensics, Biometrics and Security lab at WVU. The lab, led by Afzel Noore, professor and associate chair of academics for the Lane Department of Computer Science and Electrical Engineering, conducts research on a variety of research topics related to the identity management using biometrics and security.
"As iris biometric technology permeates many devices and applications, cybersecurity and privacy are of paramount importance," Noore said. "The research performed by these students explores integrating user-specific soft biometric attributes to develop new iris recognition algorithms. Synthetically generated iris images will be valuable in developing new algorithms to detect and mitigate iris spoofing attacks or cyberattacks.
"I am extremely pleased that the international community of leading biometrics researchers and professionals have recognized the quality and creativity of research performed by our students."
Mayank Vatsa and Richa Singh, associate professors at IIIT-Delhi and adjunct associate professors at WVU, collaborated on the two recognized papers.