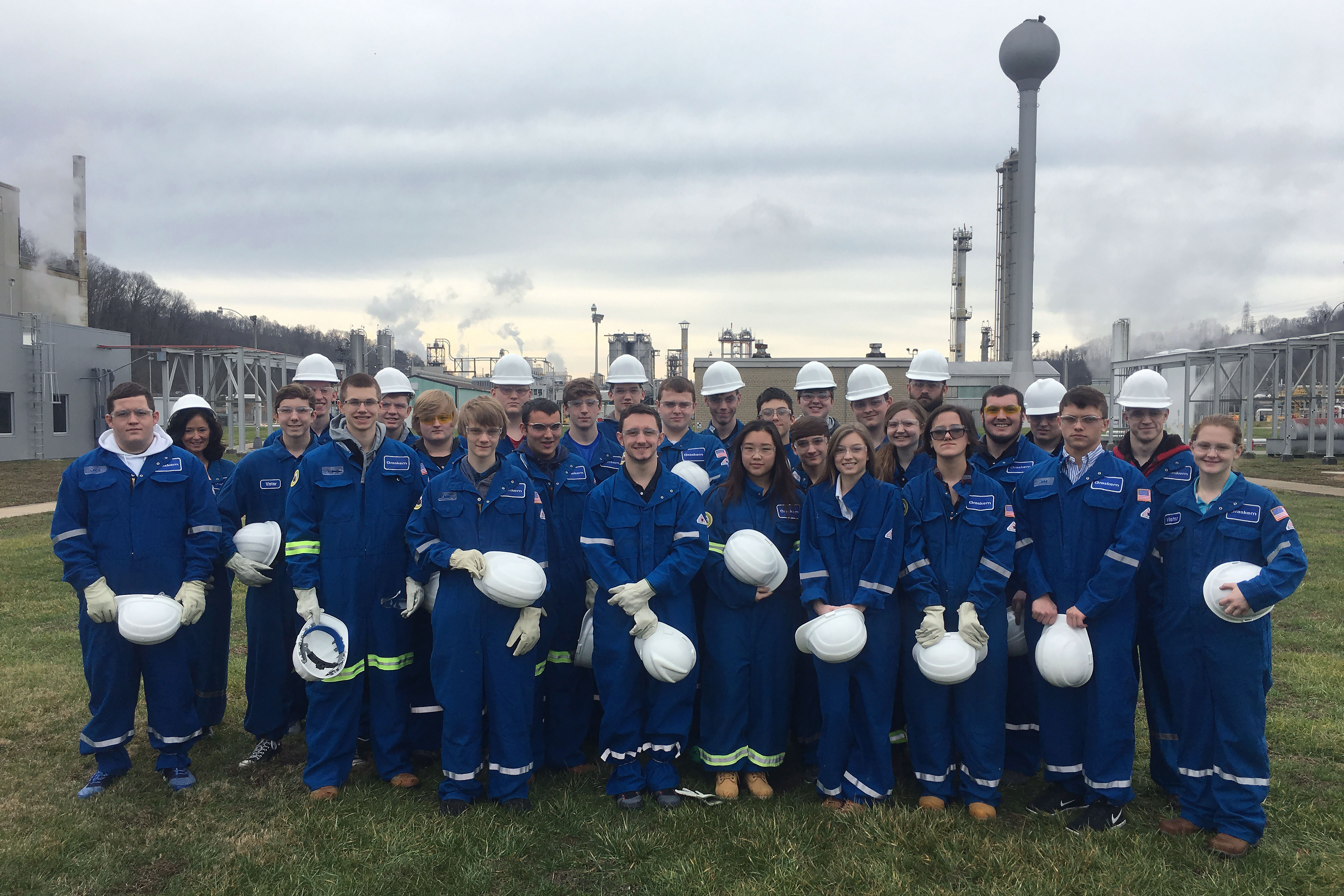 Students from Spring Valley High School in Huntington and their instructor, James Coble, have been selected to present at the national Project Lead The Way Summit Oct. 22-25 in Orlando, Florida.
PLTW is a nonprofit organization that provides science, technology, engineering and math curriculum and professional development opportunities to K-12 teachers. West Virginia Universityhas been an affiliate of the program since 2006.
The Statler College of Engineering and Mineral Resources facilitates training sessions for teachers like Coble, who are interested in offering the PLTW engineering curriculum at their schools.
"PLTW is not only an organization that prides itself on preparing students for the global economy through innovative STEM curriculum; it's also a way of teaching," said Coble. "It demands that classrooms be student-led and focused on an activity-, project- and problem-based learning model that challenges and excites students to push further."
Coble and his PLTW engineering students were one of only 18 groups nationwide selected to present at the Summit, where they will demonstrate how the PLTW curriculum helped them participate in the Big Hearts Give Tiny Homes Initiative, a project sponsored by the West Virginia Department of Education  that developed from a local tragedy.
In the summer of 2016, southern West Virginia was hit with devastating flooding that caused many residents to lose their possessions and their homes. Like many members in the community, Coble's students were disturbed by the fact that so many families were left without a place to call home and were eager to help.
"The students at our school felt charged to help these families have something as close to home as they possibly could for the holidays and they put the design process in motion," said Coble.
Utilizing the skills they had learned through the PLTW engineering curriculum, the students developed and produced a floor plan and 3-D model of a tiny home using CAD design software. Their design, which featured a sleeping area for a minimum of two people as well as a fully functional kitchen, became a school-wide effort after receiving numerous material and monetary donations from local businesses and the community.
The school's carpentry and industrial electric class used the PLTW students' model to construct a move-in ready, 162-square-foot home that they were able to donate to a family in need within the community.
"The people in West Virginia really care about each other," Coble said. "It was an incredible opportunity for our students to see how the skills they learned through the PLTW engineering curriculum could be applied through a meaningful real world event, especially one that hit so close to home."
In addition to sharing their success story at the national level, Coble and his students will explain the importance of having access to hands-on experiences during the PLTW West Virginia State Conference hosted by WVU Nov. 13.
"WVU hosts the state conference each fall as a way to show our support for PLTW programs throughout the state and to showcase their success stories," said Ali Anderson, curricular outreach program coordinator. "James has been a strong partner with WVU in growing PLTW awareness and participation across the state. Brining his students to the conference to display their amazing work at the expo will serve as an additional way to increase participation and visibility of PLTW in West Virginia."
"WVU's continued support of these programs is essential as it allow students to gain real marketable skills while in high school," said Coble. "Students leave these programs with the creativity to dream, confidence to achieve and tools to follow through. They learn to look at the world not through a microscope but with a much wider lens, which is the key to being successful in this day and age."