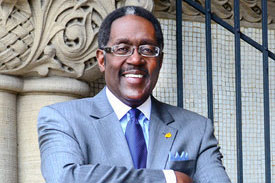 For the second consecutive year, West Virginia University's efforts in diversity and inclusion have been honored with the Higher Education Excellence in Diversity Award from INSIGHT Into Diversity magazine, the oldest and largest diversity-focused publication in higher education.
The HEED Award recognizes U.S. colleges and universities that demonstrate an outstanding commitment to diversity and inclusion. WVU will be featured, along with 79 other recipients, in the November 2017 issue of INSIGHT Into Diversity magazine.
"One of our University's core values is 'Appreciation,' which means we support and value each other's contributions as we build one WVU," President Gordon Gee said. "We could not live out that value without being committed to a diverse and inclusive community, involving students, faculty and staff, so it is gratifying that our continuing efforts in those areas are recognized on a national scale."
David M. Fryson, vice president of Diversity, Equity and Inclusion, said, "West Virginia University and the Division of Diversity, Equity and Inclusion is honored to receive this prestigious award acknowledging our continuing efforts to be an ever more diverse and inclusive institution. Our aim is to be a leader in the area of diversity and to engage the entire state of West Virginia in increasing our diversity profile and celebrating the multitudes of our cultures."
INSIGHT Into Diversity magazine selected WVU because of its innovative efforts in attracting students from underrepresented background in one of America's least diverse states, the continuing efforts to attract diverse faculty as well as University's civility initiatives and the landmark work on equity assurance and Title IX enforcement and education.
"The HEED Award process consists of a comprehensive and rigorous application that includes questions relating to the recruitment and retention of students and employees — and best practices for both — continued leadership support for diversity, and other aspects of campus diversity and inclusion," said Lenore Pearlstein, publisher of INSIGHT Into Diversity magazine. "We take a holistic approach to reviewing each application in deciding who will be named a HEED Award recipient. Our standards are high, and we look for institutions where diversity and inclusion are woven into the work being accomplished every day across their campus."