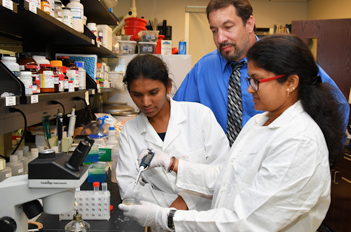 A few titles to describe Marshall University's Dr. Eric Blough: a founding member of university's pharmacy faculty, the school's director of pharmacology and toxicology and assistant dean for curriculum. Prior to those, he served as director of the Marshall University Center for Diagnostic Nanosystems and as an associate professor of biological sciences.
 A copious researcher and writer, the university landed Blough as a new hire in 2003 as a result of a National Science Foundation EPSCoR Research Infrastructure Improvement (RII) grant. Though that particular grant's time period has come and gone, he stayed put in Huntington and is now involved in West Virginia's current five-year EPSCoR grant.
 He said, "I am thankful for the EPSCoR program because, without it, I would never have had the opportunity to come to Marshall. There is tremendous potential here, and I'm so pleased to be part of it." 
Read more about his background, accomplishments and research in the Summer 2017 issue of the Neuron.