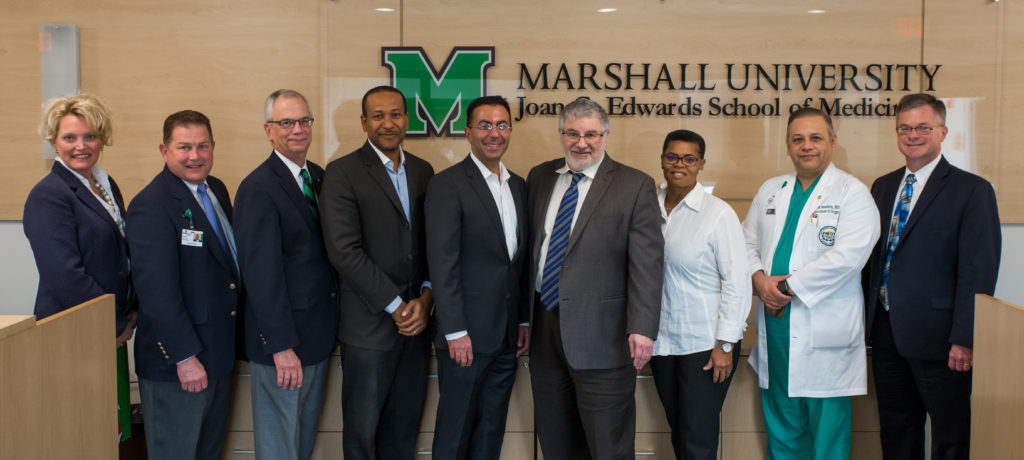 An innovative partnership designed to deliver state-of-the-art specialty health care via telemedicine has been formed between the Marshall University Joan C. Edwards School of Medicine and representatives of St. Martin/Sint Maarten, a Caribbean island composed of two separate countries, French and Dutch.
The meetings, which were held over a three-day period ending Wednesday, May 3, culminated in an agreement to explore several areas of health care delivery and education.
"We are very excited by these discussions with the St. Martin/Sint Maarten delegation, which were initiated by Dr. Mark and Ms. Monica Hatfield, alumni of Marshall who spend time each year on the island," said Joseph I. Shapiro, M.D., dean of the Joan C. Edwards School of Medicine. "In many ways, the situation on this island parallels our own in West Virginia in that their base population suffers from health care disparities."
The island's resident population is approximately 100,000, although tourism, largely from the United States and Europe, increases these numbers tremendously.
Shapiro went on to say that the school of medicine is interested in providing care both to tourists who require health care interventions during their vacations as well as the native citizens.
"We see this as a way to increase our visibility and relevance within our own country as well as provide humanitarian aid to an underserved population," Shapiro said.
In addition to telemedicine options, areas of potential collaboration include an enhanced health information technology system, research into disease systems native to the region, public health initiatives like disease prevention and healthful lifestyles, and continuing medical education.
"I applaud Dr. Shapiro and his team for considering potential global opportunities for Marshall," said Jerome A. Gilbert, Ph.D., president of Marshall University. "In today's complex world, we must be bold and intentional in our efforts.  While this is a preliminary step for us, I'm eager for this partnership to develop."
The two representatives visiting Marshall were Louis Jeffry, M.D., a French physician and native of Sint Maarten and Wendy Elie, an administrator. Both Jeffry and Elie work with the Observatoire St. Martin/Sint Maarten, the organization charged with linking the two governments' health care systems.
Pictured in the photo, left to right: Beth Hammers, Executive Director, Marshall Health; Kevin Fowler, President and Chief Executive Officer, Cabell Huntington Hospital; Jerome Gilbert, Ph.D., President, Marshall University; Louis Jeffry, M.D., Observatoire St. Martin/Sint Maarten; Ali Oliashirazi, M.D., Marshall Orthopaedics; Joseph Shapiro, M.D., Dean, School of Medicine; Wendy Elie, Observatoire St. Martin/Sint Maarten; Juan Sanabria, M.D., Marshall Surgery; and Michael McCarthy, Chief Information Officer, Marshall Health.