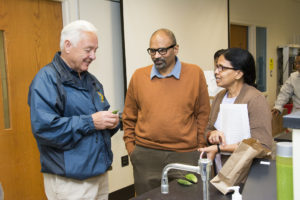 West Virginia State University's (WVSU) research on value-added and disease-resistant crops was on display during a tour by W.Va. Commissioner of Agriculture Walt Helmick, who visited the Institute campus Friday, Oct. 21. Helmick toured labs and met with administrators, scientists, students and WVSU Extension Service personnel to learn about the University's agricultural and environmental research and outreach projects.
"Research at State is introducing new economic opportunities into the landscape for West Virginia's farmers, as well as new agricultural career possibilities for our students," said WVSU President Dr. Anthony L. Jenkins. "To have Commissioner Helmick visit our campus and see firsthand how our scientists and students are helping to shape the future of agriculture in West Virginia is truly a testament to the important work being done here."
Helmick toured the labs of Drs. Umesh Reddy and Padma Nimmakayala, whose work focuses on developing new crop varieties for the state's farmers with nutraceutical and disease-resistant properties. The term "nutraceutical" refers to crops containing health-giving additives and having medicinal benefit, such as Capsaicin and Vitamin C.
"We look back at West Virginia's history in agriculture, and we were truly an agricultural state up until the 1930s. We grew everything that we consumed," Helmick said. "We know we can grow all over the state, and we have an opportunity to do it now, but we need the research. Let's figure out what we can now do at the next level."
According to WVSU scientists, introducing new crop varieties could be part of that vision. Reddy and Nimmakayala are trialing peppers and watermelons containing higher nutraceutical compounds, testing their viability in West Virginia's climate, as well as studying how to incorporate disease-resistant properties into watermelons, peppers and squash. They are also working to introduce new crops to West Virginia's agricultural landscape, such as bitter melon and pomegranate.
The goal of such research is to expand opportunities for the state's small farmers and introduce new avenues of economic growth through agriculture.
Helmick's visit included a presentation by Reddy and tours of multiple classrooms and laboratories.