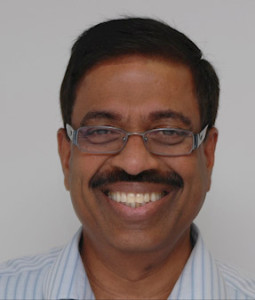 Vazhaikkurichi M. Rajendran, PhD, was recently inducted as a Fellow by the American Gastroenterological Association.
Dr. Rajendran is currently a Professor in Biochemistry, where he performs research investigating electrolyte transport processes that regulate colonic fluid movement during physiological and pathophysiological (diarrhea and ulcerative colitis) conditions.
Dr. Michael Schaller, Chair of Biochemistry, sheds some light on the relevance and significance of his ongoing research here at WVU. "Raj has a longstanding interest in the control of sodium absorption and potassium secretion in the colon, which drives the passive movement of water.  His studies have provided insight into the normal physiology of the colon, and importantly, into mechanisms leading to diseases like colitis and inflammatory bowel disease".
The American Gastroenterological Association (AGA), the nation's oldest medical society, is dedicated to disorders of the gastrointestinal (GI) tract. Through the fellowship program, the AGA honors superior professional achievement in clinical private or academic practice and in basic or clinical research. Fellowships are awarded to AGA members whose accomplishments and contributions demonstrate personal commitment to the field of gastroenterology.
The mission of the AGA is to promote the science and practice of gastroenterology through the support of research, education, advocacy and practice.
"AGA acknowledges our members with superior professional achievement in the field of gastroenterology with fellowship within our organization," said Michael Camilleri, MD, AGAF, AGA Institute President. "We are proud to announce the 2016 inductees for the AGA Fellowship program who have been recognized by their peers and community as being at the forefront of our field."
Congratulations Dr. Rajendran!