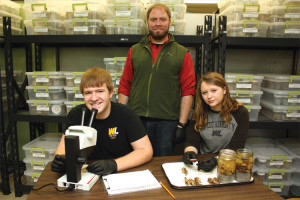 West Virginia native has interest in other state inhabitants.
At least not beyond the interest of children playing in a stream or fishermen seeking bait. Known as crawfish, crawdads, freshwater lobsters or even mudbugs, it turns out that crayfish are an important asset to the state's freshwater ecosystems.
Loughman, an associate professor of biology at West Liberty University, focuses his research on these freshwater crustaceans that resemble small lobsters–and he's gaining national recognition for it.  Many basics of crayfish biology are widely understood, but nuances about each species and the implications these small animals have on their surrounding habitats have been largely overlooked by scientists in the past.
Read more about Zach's research interests in the Winter 2016 edition of WINTER 2016 Neuron.
To read about other West Virginia scientists who have been spotlighted in The Neuron, visit the Neuron page of the Library for past issues.
If you'd like to be added to mailing list for the print issue of The Neuron, email Editor Amanda Ramey at amanda.ramey@wvresearch.org.