Charleston Gazette Mail | Monday, January 25, 2016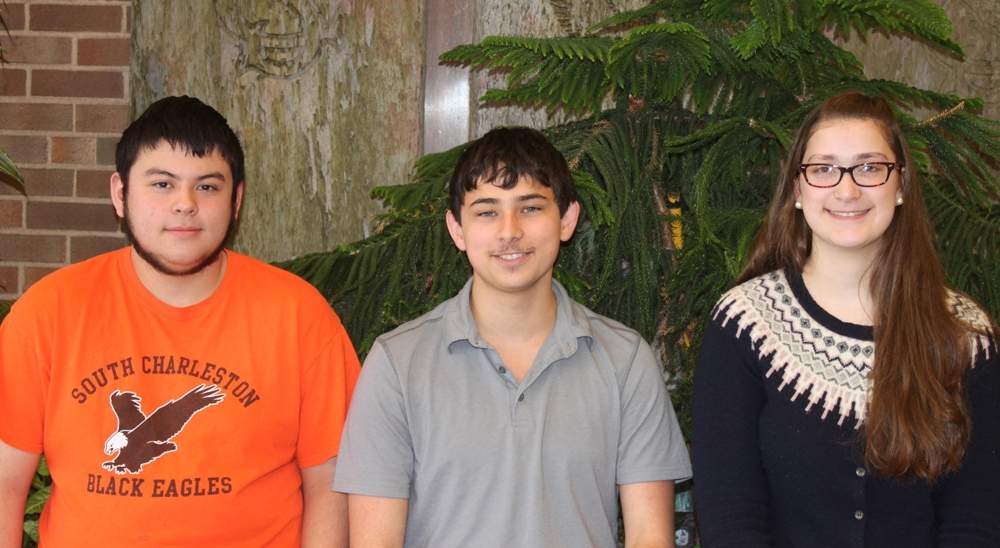 Seeing the robot he programmed compete live in no gravity against robots from other states and countries onboard the International Space Station seems exciting, but the competition began at 4:30 a.m., and Alex Casto got up to watch the online livestream 2 hours earlier.
"I hate to admit this, but I kind of fell asleep halfway through," said Casto, 17. "I was extremely tired."
But during his slumber, the robot that he and fellow South Charleston High School students Shannon Joins and Alex Sanchez programmed — alongside students at a Californian high school and an Italian high school who were in their "alliance" — worked its way toward victory.
Joseph Oliver, a computer science teacher at South Charleston High, said his school's alliance was named a co-winner of Monday's Zero Robotics competition, alongside another group comprised of one Californian and two Italian schools. He said over 400 teams worldwide took part in the competition, which started around October, and virtual programming matches among them eliminated schools leading up to the space showdown with real robots. He said some issues onboard the station, including a carbon dioxide tank freezing up, limited the competition's time to winnow it to just one winner.
"It's NASA, they're pretty tight on scheduling," Oliver said.
Regardless, he said the alliance South Charleston was part of scored more points than any other alliance.
"The kids that we have, they're phenomenal programmers," he said. "… We programmed better than any other team in the world."
Competitors gathered at the Massachusetts Institute of Technology to view the livestream from space, but the South Charleston students weren't able to attend due to the weather. According to its website, Zero Robotics is sponsored by NASA and the Defense Advanced Research Projects Agency, and is led by MIT, TopCoder, and Aurora Flight Sciences, which creates advanced unmanned systems and aerospace vehicles.
Last year, South Charleston High also won the competition. That was the first year it entered, after Oliver discovered it online.
Casto, who said he caught the end of this year's bout and was awakened by a call from his mother about it, is the only team member who also was on last year's team. Last year, he was joined by Jacob Bumgarner and Austin Roberts. Oliver said other students worked on the competition this year, but Casto, Joins and Sanchez were the pupils who were there in the beginning and stuck with it.
Oliver said the robots are propelled by carbon dioxide. They're called SPHERES — Synchronized Position Hold Engage and Reorient Experimental Satellites — according to the Zero Robotics website, and they're roughly soccer-ball shaped objects. He said the students had to virtually program them to move on a two-dimensional plane, and then to move in three dimensions. As the competition progressed, they were asked to also use fewer lines of computer code and decrease the overall data size of their code.
Casto said the competitions involved programming one's robot to collect virtual items and take pictures of opposing teams' robots, all while trying to not be photographed themselves. Robots could hide from cameras in the dark zone, but could only regain energy in the light. He said different groups came up with different strategies, so students had to program their robots, which weren't manually controlled by humans but had sensors, to react to a range of actions by their opponents.
"We had to program our code to be able to deal with anything, which is really tricky," he said. He said they couldn't change programs when they changed opponents.
Casto said his team was ranked about 20th out of the 400 schools before it was picked by the higher ranked Italian team to join the alliance. Oliver said the students from Europe, Appalachia and the West Coast communicated mostly via email, but also through live web chatting.
Casto said he got into coding around age 11 or 12 with an online game called Roblox, which he found "almost addictive." He joined Oliver's class to learn a different coding language, C++, and was surprised to win his first Zero Robotics competition. He said he doesn't know yet what his career or college path will be.
"Before this I was looking into law, but I don't know," he said. "This kind of opens up a lot of doors for me."
– See more at: http://www.wvgazettemail.com/news/20160125/schs-students-again-win-robot-competition-on-space-station#sthash.YCYxJTZD.dpuf