West Virginia University and Confirmix have announced that the cybersecurity company has raised $1.25 million in angel investment to support the commercialization of innovative biometric technologies originally developed in the WVU Multispectral Imaging Laboratory.
"WVU is excited about this significant investment in Confirmix," said Rob Alsop, vice president for legal, government and entrepreneurial engagement at WVU. "This round demonstrates the amazing quality of the research performed by our faculty and students and the entrepreneurial talent that is attracted to do business at WVU.
"We look forward to the success of Confirmix and the continued evolution of north-central West Virginia as a center for the development of the biometrics and identity-management industry," Alsop said.
According to the Federal Trade Commission, identity theft is the tops the list of consumer concerns. Reports of high-profile data breaches of personal information and photos from mobile phones and other devices have also spiked. At WVU, a team of researchers led by Thirimachos Bourlai, director of the Multispectral Imaging Lab, is using biometrics to combat the identity theft and online fraud that cause more than $100 billion in annual losses to businesses and consumer products.
Confirmix will use its new funding to develop biometric technology for consumer identity and authentication products for both enterprise and consumers. Enterprise products will be marketed through the company's flagship brand, Confirmix.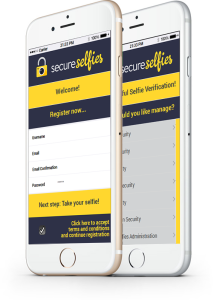 Consumer products will be marketed through the company's already-developed SecureSelfies brand and will focus on prevention of unauthorized access of mobile phones and tablets, as well as photos and other personal information that are stored on these devices.
The SecureSelfies story began in Bourlai's lab.
Alex Dunn, Steven Amerman and Walter Ferrell, computer science majors at WVU, had been working in the lab when Bourlai approached them.
The assignment was to develop a prototype of an Android phone application that was the earliest version of what became SecureSelfies, an app used to lock a phone using a "selfie," a picture of the user taken by the user, as a security measure. The selfie is then used to verify the user when they want to access the various services on their phone.
"He came to us and said, 'You have a week to finish this prototype,'" said Ferrell, a junior from Elkview. "We were working until the morning of the presentation to finish it."
In addition to funding the Confirmix development activities, some proceeds from the investment will support the launch of a company sales office in the Chicago-metropolitan area.
Biometrics uses body parts such as faces, ears, irises and fingerprints to identify people. Through research in the lab, Bourlai, who is also an assistant professor in the Lane Department of Computer Science and Electrical Engineering in the Benjamin M. Statler College of Engineering and Mineral Resources, has been able to license technologies that include capabilities for image enhancement and restoration, face and eye detection, task detection and matching, and dual-mode and dual-scenario matching. These technologies provide the key components of next-generation identity-management solutions that will allow reliable user confirmation and authentication that can prevent unauthorized access to data.
Bourlai founded Confirmix with a team of Morgantown-based entrepreneurs who have led technology startups at all stages – from founding to acquisition by multinational companies. The startup company initiated its working relationship with WVU through the new Center for Smart Defense, which led to the identification of the licensure opportunity.
"This angel investment demonstrates the tremendous market opportunity that exists with Confirmix and the biometric technologies licensed from WVU. We believe that the technologies are the key building blocks for future market-leading products in the identity-management space," said Terry Upton, Confirmix chairman and angel investor.
About Confirmix and SecureSelfies
Confirmix LLC, based in Morgantown, W.Va., is a startup company focused on delivering technologies to support secure confirmation of identification for enterprises under its flagship Confirmix brand and for consumers under its SecureSelfies brand. For more info, visit:  http://www.confirmix.com and/or http://www.secureselfies.com.