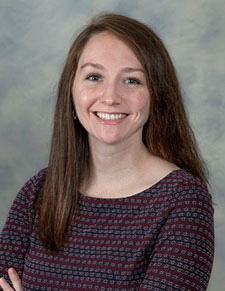 Angela Sundstrom
Communications Manager
Phone: 304.558.4128 x7
Email: angela.sundstrom@wvresearch.org
Angela is responsible for communicating ongoing programs and initiatives to the general public. She serves as editor for The Neuron, the quarterly journal highlighting academic research, and is the primary media contact for the division. Angela joined the West Virginia Higher Education Policy Commission in October 2017.
A native West Virginian, Angela spent her early professional years working as a marketing professional in the tourism industry near her hometown of Fayetteville. This experience offered a chance to strengthen her skills in graphic design, event planning, and project management while promoting the region she loves. Angela also serves on the Board of Directors for both Leadership Fayette County and New River Health Association.
Angela earned her bachelor's degree in public relations from the W. Page Pitt School of Journalism and Mass Communications at Marshall University in 2010.